Trader Ed proudly announces his merger with SMMB

Thursday, February 22nd 2018

Would You Like to Profit From Gold Silver & Oil Fluctuations?
These Three Essential Commodities Have been Responsible For Awesome Short Term Profits Trading Binary Options!

_________________________________________________________________________
And That's Exactly What My New Gold Silver & Oil (GSO)

Binary Options Trading System Can Do For You
Go For The Gold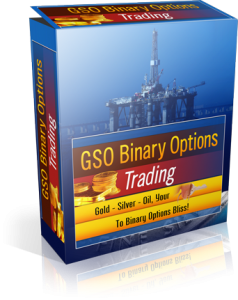 Plus Silver & Oil Too

From The Desk of Trader Ed :
Dear Fellow Trader,
Have you experienced more than a little frustration at times when the currencies are just plain acting crazy on Forex and Binary Option platforms? Well if you have, join the club because I think we all have at one time or another. This can be frustrating for the best of us or sometimes we just a need a little change of pace, a break from trading the currency pairs all the time.
If you can relate to the above paragraph, you also know the main reason I developed The (GSO) Gold, Silver & Oil Binary Options Trading System. Another reason is that many of my clients and I wanted to add a little spice to our trading arsenal. I'm a firm believer in not putting all your eggs into one basket.
If I could create a trading binary options system that could be a winner for all sessions, all assets, and all expiry times, I would be a millionaire and retired in luxury but instead I am on my way for another tour to the mission field in the Panama jungles (really, there is nothing else I would rather be doing.) God first, family second and then trader, system creator and marketer thirdly. This is the other reason for the GSO trading system. Also, thanks to my hundreds of loyal clients that I am able to do all of this.
For those of you that don't already know me, I'm not a trader, marketer guru. Just an old online trader of close to 15 years whose only claim to fame is a ton of hard earned experience and sweat in the trading arena.
Heck Ed, what's this new system all about? Thought you would never ask. Well for starters, it's just a nice little simple system to trade these 3 wonderful commodities, gold, silver and oil short term with expiries lasting 10 to 30 minutes long on the binary option market. Lets take a quick look at what my friend, and trading partner Ed Garrity did beta testing a few days ago :

_________________________________________________________________________________________________
Above we have a total of 9 trades in about 2 and 1/2 hours. 8 winners and 1 loser for a winning ratio of 89%. Granted this is a demo account. Ed.G and I are not millionaires and can't perform all our beta testing live but never the less you are looking at a profit of $2700. trading binary options in this short time. I tell all my clients that if they can't win on a demo account, they will not win on a live one. Practice until you're consistent, then go for it live. O.K. enough chit chat, a few chart pics are much better sometimes than words, words, words.

U.S. Gold Traded 1 hour before to a few after the New York opening Session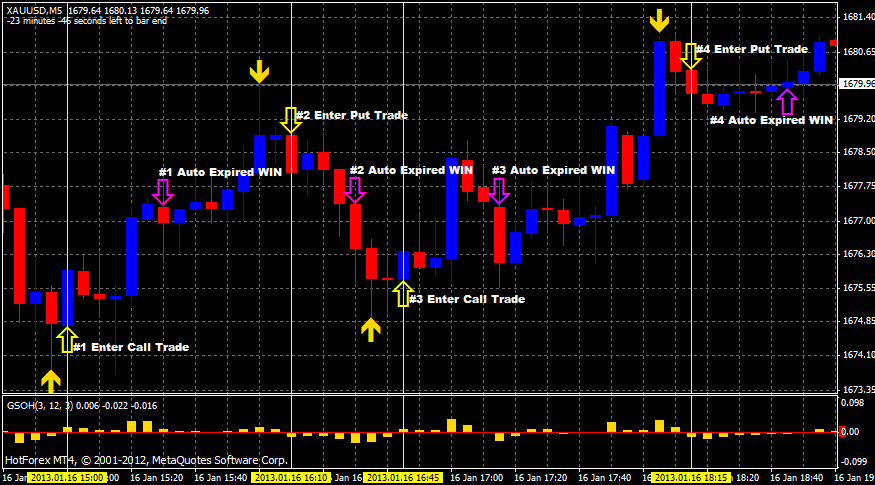 Above in the chart, we have 4 nice little gold trades in less than 4 hours trading the opening of the New York Session. How much would we have made? Depends how much per trade you are risking. About $270. profit for every $100. trade depending on the binary broker. Don't forget we were also monitoring silver and oil.

U.S. Silver at the first few hours of the New York Session, same day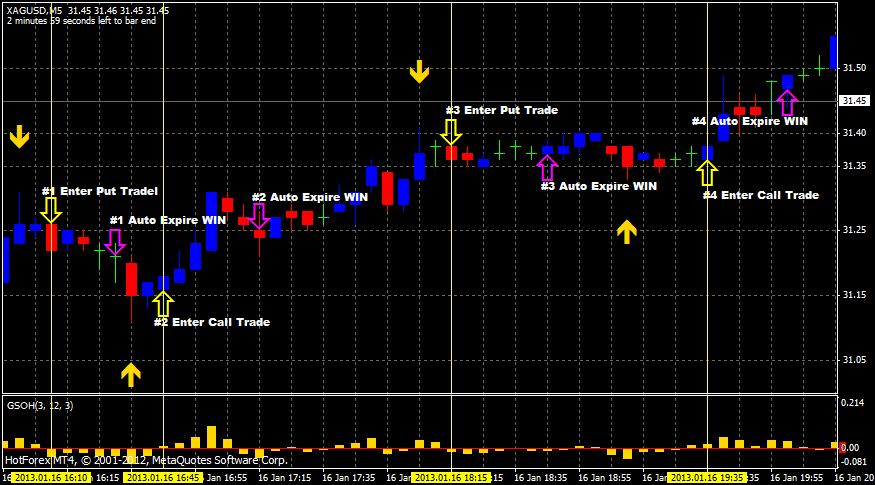 What can I say? 4 nice little silver trades during the same time period as the gold trades above. Another $270. bucks if you were trading conservative $100. trades. Take a look how simply those trades were generated. You received an audible/text alert and a big gold arrow telling you to look for a trade. You dropped down to the GSOH window and waited for the next gold bar to appear above or below the red 0.0 line depending on the direction of the arrow and when it did, usually within 5 or 10 minutes, sometimes a little longer, you jump in the trade. Wait for it to expire and collect your money. K.I.S.S. (Keep It Simple Stupid) and we still have oil to look at, WOW!

U.S. Oil – New York Session – same time period, same day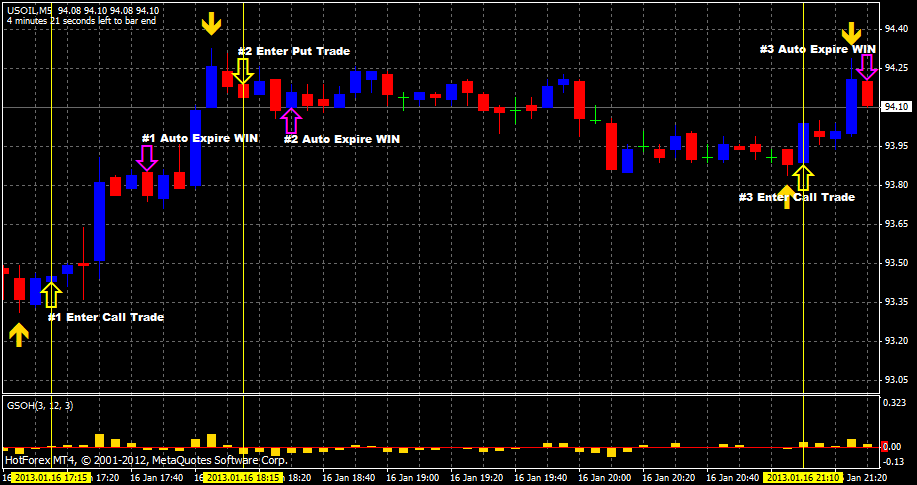 Well GeeWhiz only 3 trades and all winners. The oil guys must be sleeping on the job (heh,heh.) Let's see, we were trading binary options conservatively because we are smart cautious traders. $270. profit on gold, $270. profit on silver and only $210. profit on oil. Now, am I thinking too small, $750. for about 4 hours of leisure fun? If you're the last of the big spenders, you might have gone $200. per trade and you would be in the black $1500. for about 4 hours of fun binary options trading or you might have even gone more, figure it out. Are you getting it? This is like, "taking candy from a baby" or we could say, "it's a piece of cake" Whichever way you want to put it, can it change your life? I bet it can if you let it! Well, you know what? This would be enough for me to make a buying decision but for you "naysayers" out there. I 'll post a few more trading proof results for the GSO Binary Options Trading System just because I'm a nice guy. (heh,heh)


__________________________________________________________________________________________________

In the above trade results we see a total of 12 trades with 9 winners and 3 losers for a win ratio of 75%. We had a max drawdown of $280. and a total profit of $2430. in about 4 hours of fun trading GSO. For you newer traders that are not sure what drawdown means, it is the max amount your account starting balance was drawn down during the trading session. This is important because it can mess with your fear level which in turn affects your trading. Our two biggest problems in this trading game are GREED & FEAR. It's imperative to keep them under control. Next pic :


______________________________________________________________________________________________
We're looking at 9 trades above with 7 wins and 2 losers. About a 78% win ratio. Over $40. bucks profit, 0 drawdown. Ed.G was being cautious with his live account as we were having some problems with one of the indicators the day before. But you can crunch the numbers, if it had of been $50. trades, profit would have been $200. or even $100. that is my favorite risk level, would have been a profit of $400. It's all relative and fun.


Here's me in a hurry as usual but Hey, over $200. bucks in 45 minutes or so. I'll take that any day of the week. What do you think?


O.K. Guys & Gals, here's Ed.G with a grand finale. He made his first trade, won it and was up $360. so he thought he'd quit for the day but lo and behold, he came back to give'em hell and ended up with almost $200. more in 40 minutes. In fact Ed is so rambunctious, he made a couple of currency trades using the Updated Put/Call system at the same time. It don't get much better than that. I'm getting tired so why don't you watch the video of me making a live trade for you and go down and click on that big "BUY" button. I promise you will never regret it. Might be the best thing you've done in a long time! Just scroll down and click on that treasure image and watch the video and then jump on the "BUY" button.

Well folks, for lack of a better way to put it, "the ball is in your court" If your a newbie to binary option trading, you won't find an easier system to start out with, only 2 things to check, # 1. An audible/text alert with a big gold arrow and # 2 Reverse confirmation with a gold bar in the lower indicator window. If your already trading one of my systems, it's a little change of pace and another Trader Ed strategy to add to your binary options trading arsenal. Definitely looking forward to seeing you on the other side. Remember when you purchase one of my systems, I try my utmost to provide the best support on the net.

I Just Have to Show You 1 More Trading Proof Results


To wrap this up, the above shows 6 very recent trades in about 1 and 1/2 hours time. 5 winners and one loser for a win ratio of over 83% representing a total profit of $1440. bucks. My, my, my, if you're not convinced now that this is a great system that you must have in your trading arsenal, nothing will convince you. I've showed you trade results from the fall, way before the Holidays, trades during the Holiday thin market unstable time and after the Holidays with excellent results even though it appears that the markets are not quite back to normal. What else can I say?
Here is What You Will Receive With Your Purchase

Four .ex4 custom indicator files


One .tpl Template file




One User Guide Explaining Everything Needed to Trade The System



The above valued at : $97. to $197.

Unlimited personal lifetime email support for the trading system



The above valued at : PRICELESS!

But Ed, I don't have that kind of money to spend just after the Holiday expenses and the economy the way it is. Guess what? I heard you. I have decided to keep this system priced equally with all my others. Not because I'm in business to lose money but because every trader or potential trader out there that wants this system can afford to get it NOW!

Click on the big orange button below and you will be able to download the system no matter what time of day or night it happens to be in your time zone!

CLICK HERE to See my Other Excellent Systems to Trade Binary Options!
Best Recommended Binary Options Brokers At This Time
#1 Binary Options Broker Choice Accepts Traders Worldwide.

They have all types of trading to include 60 Seconds
Turbo 2 minute & 5 minute expiry trading!
Last But Not Least, An Awesome and Easy to Use Platform!
This Broker Accepts All Clients With 5m Expiry Times On Up

This Broker Offers a Free Demo Account Without Funding a Live Account


Another Fine Binary Options Broker
NOTE

Due to the pricing which is much lower than similar products of this nature on the market and being delivered digitally, there is a no refund policy available but unlimited support is available as long as you own the product! In any language other than English, support will be given to the best of my ability using an online language translator. Those of you that have purchased from me before know that the support I provide is inferior to none!
Click Links Below To View My Other Five Systems
FxBin Combo Hedge | Slam Dunk Forex
The PutOption-CallOption Method
60 Second Binary Options | Fx Binary Option Scalper


READ THIS BEFORE CONSIDERING ANY INVESTMENT RECOMMENDATIONS: All forms of trading carry a high level of risk so you should only speculate with money you can afford to lose. You can lose more than your initial deposit and stake. Please ensure your chosen method matches your investment objectives, familiarize yourself with the risks involved and if necessary seek independent advice. NFA and CTFC Required Disclaimers: Trading in the Foreign Exchange market is a challenging opportunity where above average returns are available for educated and experienced investors who are willing to take above average risk. However, before deciding to participate in Foreign Exchange (FX) trading, you should carefully consider your investment objectives, level of experience and risk appetite. Do not invest money you cannot afford to lose. CFTC RULE 4.41 – HYPOTHETICAL OR SIMULATED PERFORMANCE RESULTS HAVE CERTAIN LIMITATIONS. UNLIKE AN ACTUAL PERFORMANCE RECORD, SIMULATED RESULTS DO NOT REPRESENT ACTUAL TRADING. ALSO, SINCE THE TRADES HAVE NOT BEEN EXECUTED, THE RESULTS MAY HAVE UNDER-OR-OVER COMPENSATED FOR THE IMPACT, IF ANY, OF CERTAIN MARKET FACTORS, SUCH AS LACK OF LIQUIDITY. SIMULATED TRADING PROGRAMS IN GENERAL ARE ALSO SUBJECT TO THE FACT THAT THEY ARE DESIGNED WITH THE BENEFIT OF HINDSIGHT. NO REPRESENTATION IS BEING MADE THAN ANY ACCOUNT WILL OR IS LIKELY TO ACHIEVE PROFIT OR LOSSES SIMILAR TO THOSE SHOWN. Hypothetical or simulated performance results have certain inherent limitations. Unlike an actual performance record, simulated results do not represent actual trading. Also, since the trades have not actually been executed, the results may have under- or over-compensated for the impact, if any, of certain market factors, such as lack of liquidity. Simulated trading programs in general are also subject to the fact that they are designed with the benefit of hindsight. No representation is being made that any account will or is likely to achieve profits or losses similar to those shown. Important risk note: Binary options trading also involves significant risk. Traders should be aware of their individual capital gain tax liability in their country of residence. GSOBinaryOptionsTrading.com and it's affiliates are only in good faith "sharing information" and is not making any recommendations to invest in currency or any other investment. Nor is GSOBinaryOptionsTrading.com, it's owners and affiliates responsible for any losses incurred by sharing any information and is only sharing this information in good faith. GSOBinaryOptionsTrading.com, it's owners and it's affiliates are not responsible in any way for losses incurred.